This is an old post. It may contain broken links and outdated information.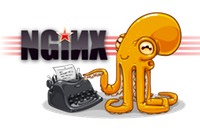 Getting Octopress set up took a bit more time than I was expecting, because of the missing libraries issues I encountered. Fortunately, actually putting Octopress published and visible on the web took a lot less time.
The Bigdinosaur.org web server runs the latest stable version of Nginx, an event-driven web server which serves static pages faster than a fat kid eats pancakes. Nginx has a roughly similar concept of virtual hosts as Apache does, and because Octopress doesn't require any databases and doesn't use PHP or perl, it can be served with a very simple site definition file.
Most folks tend to be comfortable doing virtual hosts in the Apache way. If you install Nginx on Ubuntu from a repository (there is a Launchpad PPA with the latest stable release, which is several revisions newer than the one in the default sources), you'll end up with an /etc/nginx/sites-available directory and an /etc/nginx/sites-enabled directory, with the former containing site definition files and the latter containing symlinks to those files, just like Apache. We'll use those directories here.